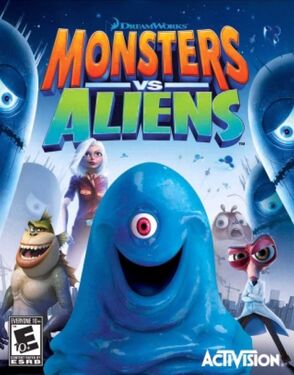 Monsters vs. Aliens
is a 2009 video game based on the
film with the same name
. The game was released on March 24, 2009 on
Microsoft Windows
,
PlayStation 3
,
Xbox 360
,
Nintendo DS
,
PlayStation 2
, and
Wii
.
The game, developed by Beenox on all platforms except the Nintendo DS which was developed by Amaze Entertainment, allows users to play through scenes from the movie as Ginormica, B.O.B., and The Missing Link, and features drop-in/out co-op. Players can play as Dr. Cockroach, Ph.D in multiplayer co-op, as well as Insectosaurus on the Nintendo DS version of the game. The music was composed by Jim Dooley, with live brass recorded at the Warner Brothers Eastwood Scoring Stage.
Cast
Reese Witherspoon Kirk Thornton
Rainn Wilson James Arnold Taylor
Fred Tatasciore Dave B. Mitchell
Trivia
Reception
The game received mixed to positive reviews from critics. The PlayStation 2 version of the game received a 64/100 from Metacritic, and the Xbox 360 received 63/100. All platforms scored 5/10 at IGN, with an exception for the Nintendo DS version, which scored a 3/10.
Gallery
External links